Samsung seems to be doing great the past couples of years, conquering the top of the smartphone market with impressive devices even when the competition is fierce, offering a successful brand name, smart product promotion and the... so called hype that makes the change!
Galaxy S4 has been around for a few months and is doing great as Samsung's flagship model replacing the well known Galaxy S3. However its pricing (as a 5 inch smartphone) is quite high and not affordable for most of the mid range buyers out there, who have a budget of 200-400 Euros to deal with. That's why Samsung just unveiled a... mini version of the Galaxy S4, code named Galaxy S4 mini with a more affordable price just around 400 Euros. Can this Galaxy S4 mini prevail in this market as well?
We had the device in our hands for a couple of weeks so we are in position to answer your questions. The device comes with a solid packaging, that has a 1000 mAh charger, USB cable and handsfree. The "Black Myst" version of Galaxy S4 mini leaves a good first impression, something quite different from the classic white coloring that both the S3 and S4 models have. Its 4.3 inch Super AMOLED display takes tha largest part of the front side of the device, leaving little room for sensors, camera and the earpiece and on the bottom, the hardware button, along with its two capacitive keys on each side.
This Galaxy S4 mini is so... miniscule that it impresses us with its weight (a mere 107 gr.). On the back side we find the detachable plastic cover (that looks like its made out of carbon fiber - but it's not) and looks like brushed aluminum if you want a more precise description. All in all we loved Galaxy S4 mini's design, but we're not sure if it will be ready to withstand a lot of harse handling. After all we all know how sensitive the Galaxy S3 turned to be.
On the back side you will also find the device's speaker, a camera with a single LED flash and volume buttons on the left, along with the power button on the right side. For a smartphone of this calibre its display's size is exquisite. After all 4.3 inches are considered to be the best display size available for one hand use, but also offering the ability to watch movies or browse websites without problems. I'm sorry to say that the Galaxy S4 mini has a mere qHD (960×540 pixels) resolution but it offers a really good ppi (256) and impressive quality even in direct sunlight along with some really vivid colors! It lacks some intense on its white colors but this is something to be expected with AMOLED displays, since they offer a solig black color that's hard to match.
If you have a look on the inside of the device you won't find obviously the quad core Snapdragon SoC that the S4 has, but a dual core SoC @ 1.7GHz that seems to be quite sufficient for the device, using 1.5GB of RAM to work perfectly. Its Adreno 305 GPU may not be perfect but it does its job, offering 3D graphics and fast video processing that will surely amaze you. As far as it concerns its other features? You will find 4G LTE support, NFC compatibility, DLNA and WiFi Direct, an FM RAdio, Infrared port etc. Unfortunately the Galaxy S4 mini doesn't support the impressive Air Gestures we first met in the Galaxy S4 flagship, nor Air View and Split Screen. As you can understand there's no smart scroll, smart pause nor any other impressive multimedia features. Thankfully Samsung managed to retain the Smart Stay feature so as long as you stare at the display, it will not turn off.
The device runs on the Android 4.2.2 Jelly Bean version and it will probably take the Android 4.3 upgrade soon. If you use it along with Samsung's TouchWiz UI you will find out that this Galaxy S4 mini can turn into a really usable smartphone with impressive features and a great pricing. You can add widgets and shortcuts to the standby screen and lock screen and drop down the status bar to get access to the settings screen! You will also find Samsung Apps and Samsung Hub to gain access to ebooks and more games. You will also find Samsung link to easily connect your smartphone with other devices (laptop, smart TV κ.λπ.), along with WatchON through which you can control other multimedia devices, using the Galaxy S4 mini as a remote control. It works great, you don't have to worry, I tested it with TV's and DVD players! The S Voice didn't always understand our orders but unfortunately it doesn't support Greek!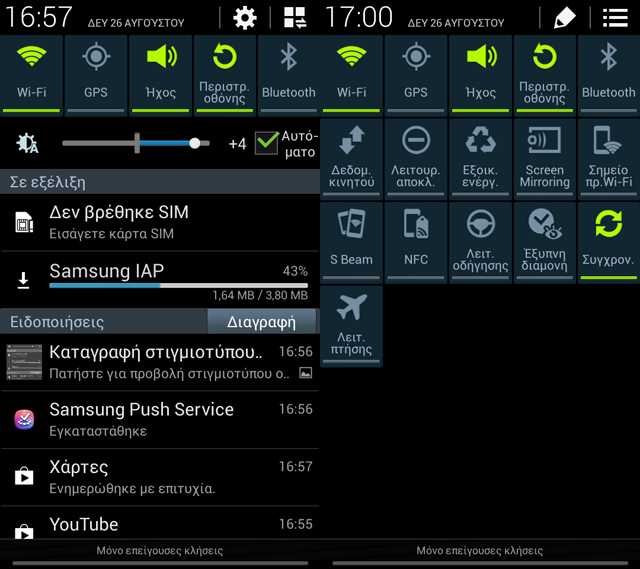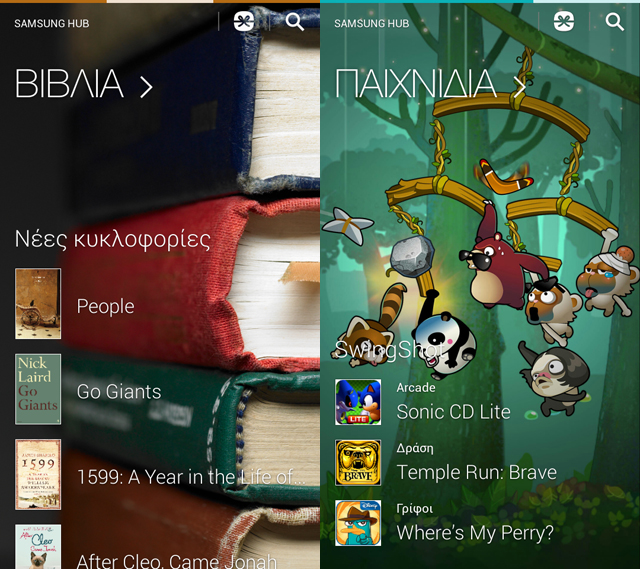 The device's speaker and microphone are quite impressive, apart from the fact that the speaker is placed on the back side of the device, so when you want to listen to incoming call ringtones it's a bit difficult to do it in open air spaces since the sound is a bit muffled. The same happens when you watch a movie... so these are the times when HTC One (and its mini version) comes in mind, with its BoomSound speakers that really pose as a great threat to Samsung's Galaxy S4 mini. As far as the camera is concerned, its 8.0MPixels are a bit less than the 13MPixels the S4 has, but this doesn't mean it's not a decent camera. Quite the contrary: it can shoot impressive photos with touch focus, HDR, panorama and face recognition support, along with a Sound & Shot feature that allows you to add surrounding sounds to a shot and edit all your shots in many ways.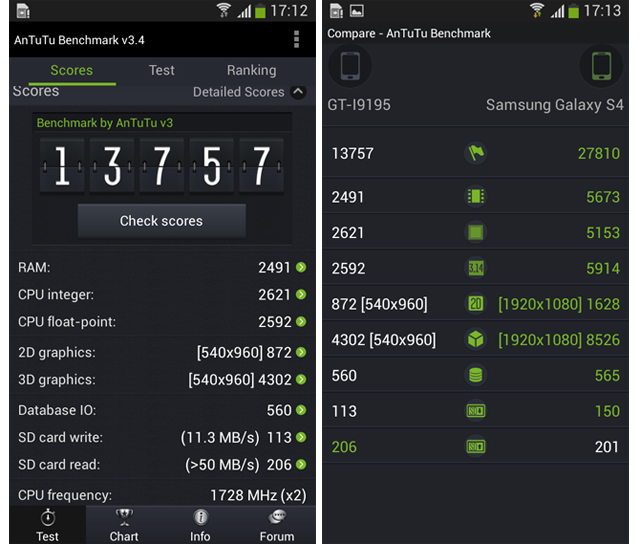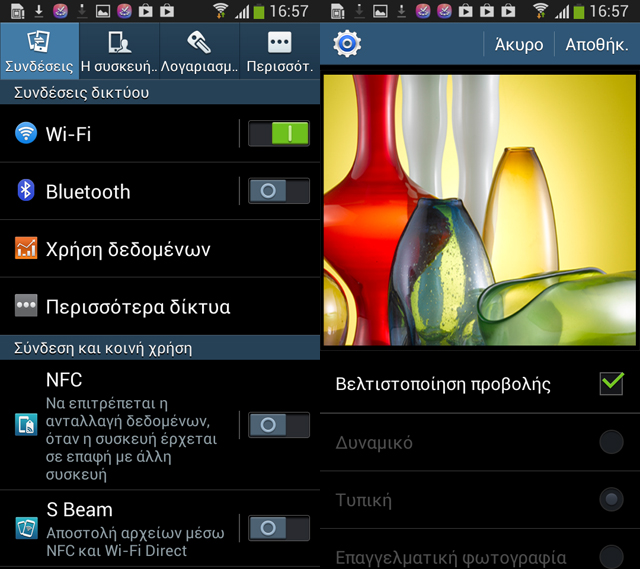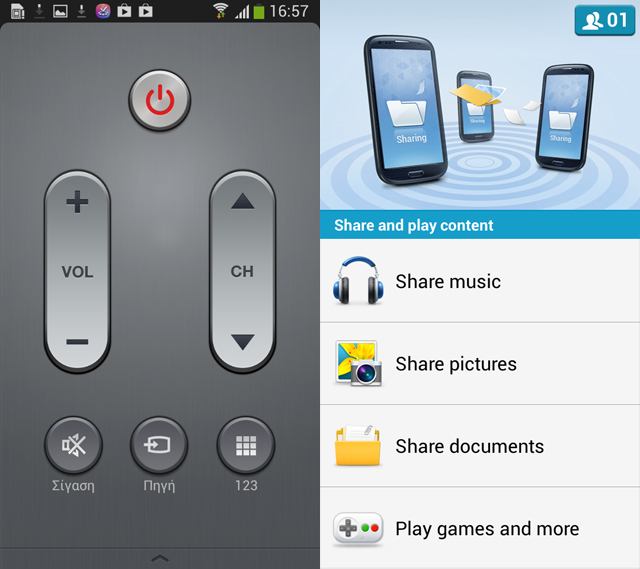 We were impressed by the 1080p video recording function, with impressive image and sound quality so its pictures and videos are not going to disappoint you! The only thing that did, was the LED flash which proved to be a bit less bright than what we needed. The device also has impressive battery times thanks to its 1900 mAh Li-Ion battery, that allows for almost 10 hours of talk time in 3G networks or 7 hours of continuous web browsing! If it had a bit less energy consumption when idle then we would be talking about a... miracle!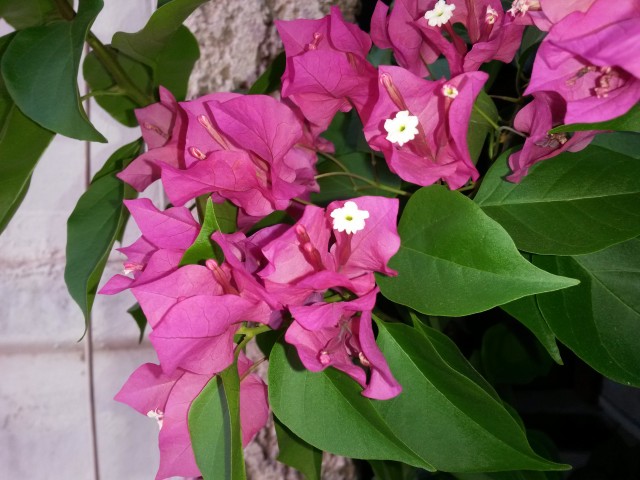 Well guys, here it is: Samsung Galaxy S4 mini before your eyes! A small, easy to use high end smartphone by Samsung with impressive features. It reminds us a lot of Samsung Galaxy S4 but it's more like a... small size version of it, that will fit perfectly in your hands offering impressive features. Its main competitors are Nexus 4, Xperia V, Οne mini which are 720p smartphones but with lower specs than the Galaxy S4 mini. Its pricing is quite tempting (400 Euros more or less) so it will surely be one of our favorite devices for the year!