G2 is LG's answer to Samsung's Galaxy S4 and HTC's One flagship while it now can compete with Sony's Xperia Z1 smartphone. It relies on Qualcomm's most powerful System on a Chip, thus meaning that is so powerful and - trust me- it knows it!
Samsung's and HTC's flagships use an inferior SoC - Xperia Z1 uses the same- so they will have to rely on other specs and abilities if they want to keep up with G2's fierce power. If you talk about Note 3 then I will have to let you know that it belongs to an entirely different market category (phablets) so I don't think it's a direct competitor to the LG G2.

LG G2 took aesthetics one step further using two arcs on the top and bottom part of the device (like Samsung's products)  reducing the bezel around the display. In addition LG managed to retain the weight of the device at a really low size - even though it uses an impressive camera with OIS (Optical Image Stabilization) and a larger 5.2 inches display. Despite the large size of this display however LG G2 is a really elegant device that can easily fit in the pocket of your jeans or your jacket's with no problem!
To succeed in something like this, LG had to find ways to overcome some obstacles. So in order to achieve so small bezel around the display it had to redesign some parts of the smartphone like handling keys, display or battery. The battery for example has gaps in its corners, in order to fit better inside G2 and take up as much space as possible, while retaining its 3000 mAh capacity. The devices volume keys left its side and now they are placed on its back! The camera was also re-designed and several parts were moved in order to achieve the desired thickness of the device. So as you can understand G2 was a huge challenge for LG!
Aesthetic and functions
If you look it from the front side, you will see that G2 looks like a... complete display and nothing else. It features super thin bezel, a black like mirror front side, all of these play a significant role so that the result will be perfect. The lack of volume keys on the sides assist in this and they have all moved at the back of the device. For LG your point finger is the new thumb and to be honest it really works great in everyday use! Today smartphones have become so large in their dimensions that using them with just one hand is so difficult and having keys on both sides offers practically nothing. On the contrary it will just take you a couple of minutes to get to know the new keys on the back of G2 but your finger will instinctively go on the back of the device and you will be glad for it. In any case, why didn't anybody thought of this sooner?
The plastic materials of the device have a glossy finish and look radiant sometimes. It looks like something... Samsung would have designed, however it is quite evident that it has its own personality! Personally I find this type of glossy finish as obsolete at this time, because it looks old fashioned (nothing alike Lumia 920 which is awesome), and nothing has changed since the time I reviewed Samsung Galaxy S4. After all it gets dirty easily with sweat and other stuff. LG said no to the center key below the display (thank God) and replaced it with 3 or 4 soft keys that are placed just below the display.

G2 is a smartphone that looks awesome - however something tells me that a feature is missing from its front side. I don't know what, but at least something that would say how unique this smartphone truly is.
Hardware
The most impressive feature of G2 is its display, that allocates almost 75% of the front side of the device. It packs an LCD IPS display with a 5.2 inches diagonal @ 1080 x 1920 pixels resolution and 424 ppi. It offers an exceptional color depiction but I expected it to be brighter. It also offers excellent viewing angles with just a few reflections that make using it below direct sunlight sometimes a tiresome task. Inside  the G2 packs a Snapdragon 800 SoC with 4 Krait cores @ 2.26GHz and the best GPU available in the market: Adreno 330. It comes with 2GB of RAM and 16GB of storage but no micro SD card support. I believe that LG should bring the 32GB version of the device in our country, without any doubt. If this wasn't possible then at least they should design the G2 with a microSD card slot!
In other features, LG's flagship is equipped with WiFi 802.11a/b/g/n/ac dual-band, WiFi direct, WiFi hotspot, DLNA, NFC, GPS ( A-GPS, Glonass),  it supports USB on-the-go and USB host, offers microUSB 2.0 support with MHL compatibility and can be used as a remote control via Infrared. It's obviously 4G LTE compatible and packs a strong, solid speaker with impressive sound, but not as good as the HTC One and Xperia Z1 offer. Obviously it offers better sound than Galaxy S4 and Note 3.
LG G2 packs one of the most impressive cameras available in an LG smartphone in the market today. It packs a 13 MPixels image sensor but what makes it so special is the use of an Optical Image Stabilizer that makes sure that you will shoot stable photos without trembling hands etc. The camera will surely satisfy your imaging needs there's no way it's gonna disappoint you! All imaging files are well shot, with nice colors and low digital noise but I cannot say the same with the videos that the camera of G2 can record.
While recording the autofocus feature was striving to focus on my target and the camera as a whole turns out to be a bit slow for my needs. On the front side, G2 packs a 2 MPixels camera than can record 1080p videos at the same time you use the main camera to do the same! All the bundled software looks awesome and will surely help you!
Have a look at some image samples below
Have a look at a video sample at 1080p
Software
LG's software is always one of the most comprehensive in the smartphone market. It packs a lot of pre -installed apps - most of them really useful- and some unique! Apart from the QSlide feature (you can open 2 apps simultaneously in two windows and keep surfing in the UI at the same time) we also found the Quick Memo feature that can be turned on in 3 ways: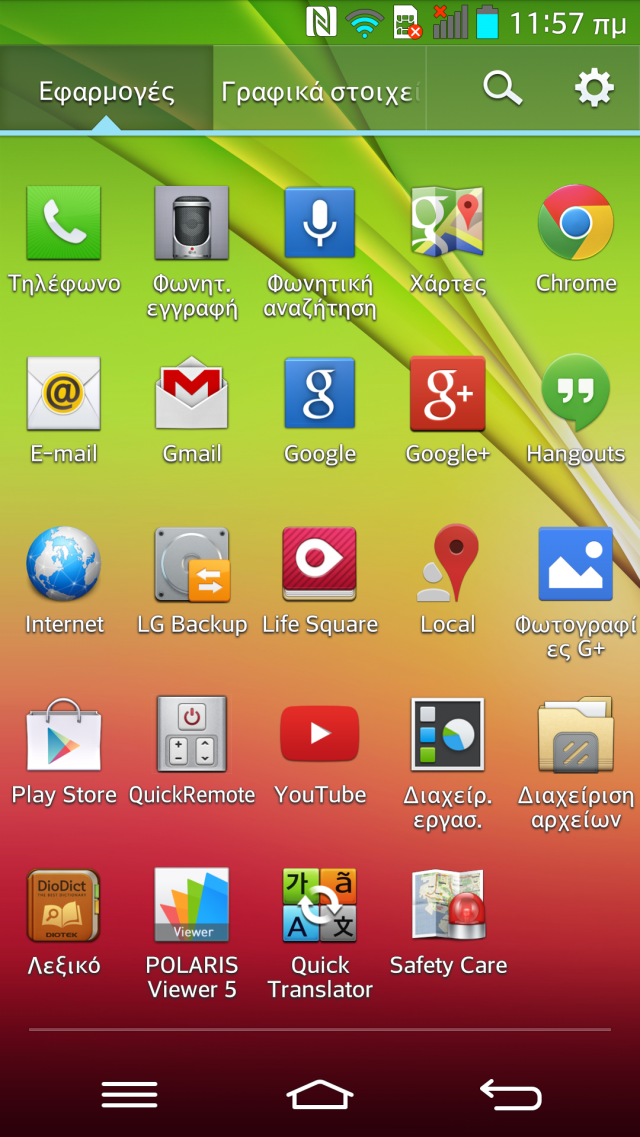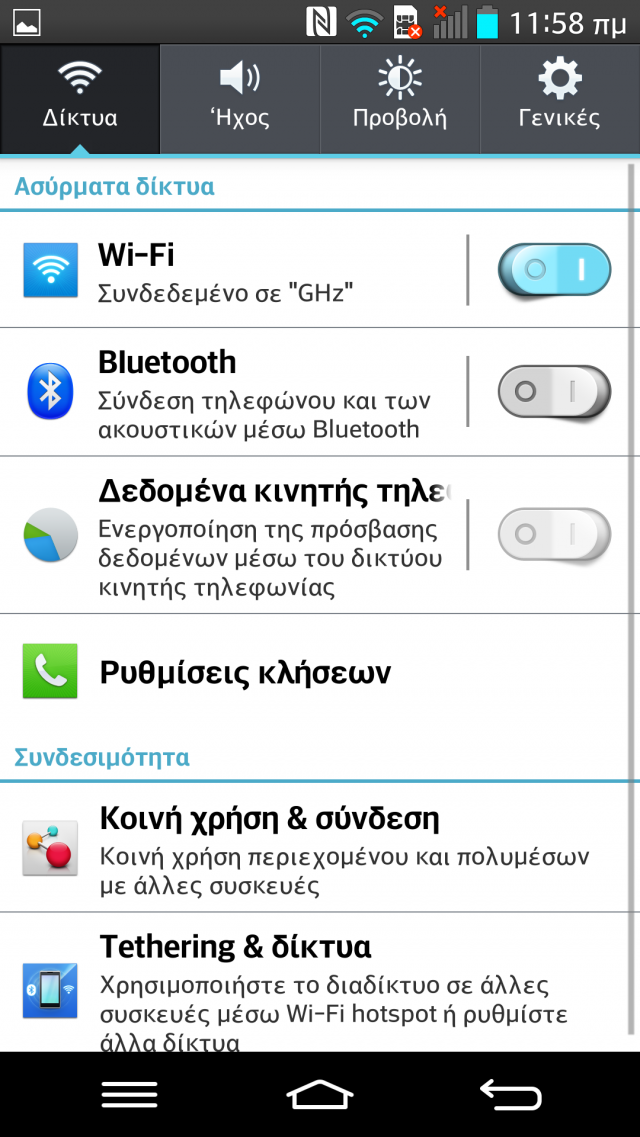 Pressing repeatedly the Volume Up on the back, pulling down the Notification Center from the top, or by swiping up in the softkeys. Users will also find a sloid Notes app, LG Backup to keep safe your important files in the device, Quick translator to do easy translations on the fly, using the camera of the device etc!
Power
LG G2 thanks to Qualcomm's high end SoC is one of the fastest smartphones in the world. Everything is as fast as hell, no lags or sluggish reactions from applications, or during web browsing. In any case the phone is as fast as a lightning!
Conclusion
Competition is quite hard these days but has more things to show us. Thankfully we users have the chance to choose between excellent devices with impeccable specs. LG G2 offers an excellent 5.,2 inch display, an optical image stabilizer in the camera, the fastest SoC available in the market nowadays and an excellent price (599€). The thing that disappointed me is the lack of microSD card support, which means that users will have to live with just 16GB of storage. It's all made out of plastic so this doesn't look like a premium device even if on the inside it packs a powerful hardware. To sum it up G2 is the best smartphone ever designed by LG and one of the best in the market. Its cost (599€) is one of its best features.